An affiliate marketing is a performance-based marketing in which a business pays a sum of money in the form of a commission to a blog or a website owner (called Affiliate) for each visitor or a customer who makes a purchase (in some cases, registers for a free trial) from your website through your own marketing efforts.
How to Become an Affiliate?
You should consider the following steps to choose a right affiliate marketing program in order to maximize the opportunity to monetize your blog;
• Identify the Affiliate Program based on your Niche (e.g. News, Travel, Automobile, Health, etc.)
• Choose an Affiliate Marketing Program
• Register with a business who has a dedicated Affiliate Marketing program.
• Wait for their confirmation email. Once they approve you as an affiliate, you would receive an email from them.
• Place Affiliate Links in the form of Banners, Links, etc. on your Blog or a Website.
• Promote your site using various promotional strategies like Google Ads, Facebook Marketing, LinkedIn, Quora, Pinterest, and so on.
You can refer to the below mentioned top Affiliate Marketing programs which would help you monetize your blog;
Elegant Themes
This affiliate program offers as much as 50% commission to website owners who manage to make a sale through their content or any other marketing medium like paid ads. Apart from that, you are also entitled to an extra commission when people renew their subscriptions. To register with their affiliate program, click here.
SiteGround
Siteground is a web hosting services company which offers up to $150 for each sale if you manage to make more than 30 sales per month. It also has a higher conversion rate as compared to its competitors like Hostgator, Bluehost, etc. You can go ahead and register for their affiliate program here.
WP Engine
WP Engine equips its customers to customize their content management system like WordPress to the next level with their top notch services. As an affiliate, you can make as much as $200 for each sale or 100% of the first month's payment by your referral(whichever is higher). You can also earn $50 per customer, which your sub-affiliates refer to. WP Engine also offers incentive bonus commissions when you start making at least 5 sales per month. Register for their affiliate program here.
Constant Contact
Constant Contact is an email marketing tool which provides an opportunity for its affiliates to earn up to $105 for each new customer and $5 for each customer who signs up for a free trial. You can also register for their affiliate program by clicking on this link. Scroll down to the bottom and click on 'Apply Now'.
Aweber
Most of you would have probably heard of Aweber. It is an email marketing service provider which offers up to 30% recurring commissions. Register for their affiliate program here.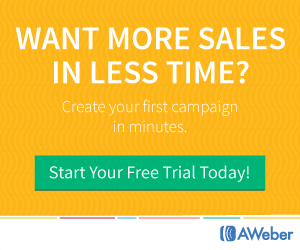 Grammarly
Like Aweber Affiliate program, Grammarly also offers a commission of 20 cents on every free sign-up, while for every customer who signs up for their premium plan, they offer a commission of $20. Grammarly Affiliate program also offers perks for top performers along with a $25 activation bonus. You can sign up for their affiliate program, either on Commission Junction (CJ) or ShareASale. Follow this link to register.
Amazon Associates
It is one of the most popular and successful affiliate marketing programs out there. Even if you manage to send your website visitors to Amazon and if you manage to make a sale of any product other than your niche, you are entitled to a commission. You can earn as much as 10% of the commission out of those sales made through your own website. This affiliate marketing program is a must-have!
SEMrush
SEMrush is one of the most popular and top-rated SEO tools on the internet which provides an insight into the keyword research, Domain Authority, Backlinks, etc. This affiliate marketing program offers 40% recurring commissions for their subscription plans. A good way to make revenue in case you are writing about SEO on your blog or website.  You can register for their program here.
WP Rocket
This WordPress plugin is one of the highest rated and widely used cache plugin. You can get a 20% commission on each sale you manage to make out from your website users.  To register, click this link
StudioPress
StudioPress helps individuals, businesses, etc. to build powerful and flexible WordPress websites while providing you an opportunity to earn generous commissions along the way. StudioPress affiliate program will reward you by paying 35% commission for each customer that you refer to the Genesis Framework or a StudioPress theme. While applying for this program, make sure that StudioPress DOES NOT approve coupon, deal or discount type websites.
Shutterstock
Shutterstock is one of the best destinations for a high quality licensed stock photos, illustrations, music, and videos. As an affiliate, you are entitled to earn 20% of a revenue share when your website visitors make a purchase of any of their products through your affiliate link. You can also receive regular and flexible automatic monthly payments via PayPal or wire transfer. You can go ahead and register your website for their affiliate program.
Bluehost
Bluehost is one of the best web hosting services provider. As an affiliate, they offer you up to $65 commission per referral who signs up for their hosting service. To register for their affiliate program, click this link and then click on 'Sign-up'.
Conclusion
There are various other businesses who offer affiliate programs at reasonable pay-outs. Choose an affiliate very carefully as per your business niche. There are a few affiliate programs like ShareASale, Commission Junction, Impact Radius, VCommission, etc. where you can register for multiple affiliates at the same time without registering for each one of them. Hope this article was helpful and served the purpose. Should you have any queries or if you would like to mention other affiliate programs who pay generously to its partners, do let me know by posting a comment to this article below. I would very much appreciate that.
Please follow and like us, if you really do!!